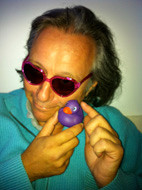 Niloc Pagen
Born 14 June 1960 in Heerlen, Netherlands
The first characteristic of the artist Niloc is his immense enthusiasm concerning life and art.
Most of his life he has been travelling the continents as the flying Dutchman.
Inspired by the different cultures and pop art he makes colorful objects made out of papermache and fiberglass.
with his work he persues the quest of bringing the joy of life onto the people.